In Memoriam
Dr. Frances J E Wagner Memorial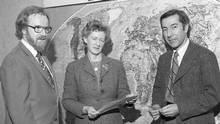 Former friends, neighbours and colleagues are invited to gather to share memories and stories of Frances Wagner longtime Mt. Uniacke resident, member of the Uniacke Historical Society, Nova Scotia Historical Riding Society, dog breeder, horse breeder and noted micro-paleontologist.
This sharing time is scheduled for 1 pm on Friday, July 14, 2017 in the Carriage House of Uniacke House, 758 Hwy 1, Mount Uniacke, Nova Scotia.
For further information, please call 1 902 798-5077.
---
Richard "Dick" George Bolney Brown, 1935-2010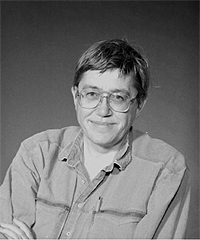 Richard ("Dick") G. B. Brown, Elective Member (1978) and longtime supporter of AOU, died on 26 March 2010 in Kings Regional Rehabilitation Centre, Waterville, Nova Scotia, Canada, at the age of 74 following a lengthy 15-year battle with dementia. Dick was best known for his pioneering long-term study of the pelagic ecology of seabirds in the Northwest Atlantic, which included the first computerization of seabird at-sea data to analyze patterns of species' distributions over a large marine geographic area: eastern Canadian Arctic, western Greenland, and the Atlantic north of 40oN and west of 40oW. He was a towering figure in marine ornithology worldwide for also showing the relationship between distributions of birds at sea through the annual cycle with the oceanographic characteristics of their marine habitat. In addition to his intellectual prowess on seabird ecology and behavior, Dick is also remembered as a well-read, witty and entertaining raconteur, at his best in informal social gatherings discussing topics from his beloved seabirds to the Greek classics and other subjects from the humanities, always enhanced by a glass of spirits or wine in hand. He was one of the warmest, friendliest, and most interesting of the seabird investigators of his era, always willing to give of his time and knowledge to fellow workers and students.
---